For photos, please click on the following link of the German website:   Woodie Love Bug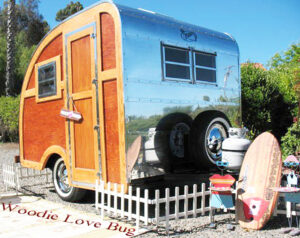 The text below still has to be translated in the future!
Ein Wohnwagen zum Verlieben (Verkaufspreis auf Anfrage)
Dieser neu hergestellte außergewöhnliche Wohnanhänger im Retro – Style besticht durch Form, Aussehen, Material und geringe Abmessungen. Bei der Verarbeitung werden nur hochwertige Materialien wie Birke, Eiche und Aluminium verwendet.
Maße Innenraum: Länge 2,40 m x Breite 2,00 m x Höhe 1,90 m
Maße Aussen: Länge über alles 3,90 m x Breite 2,10 m x Höhe 2,35 m

Zur Ausstattung gehören:
– 4er Sitzgruppe zum Doppelbett umbaubar
– Küche mit 2-flammiger Kochstelle
– Spüle aus Edelstahl
– 12 V Kühlschrank
– Frisch- und Abwassertank