Airstream Safari 1966 – Mobile Bar EN
For photos, please click on the following link of the German website: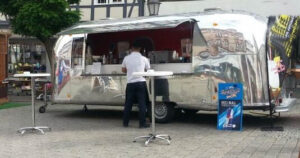 Mobile Bar – Airstream Safari 1966
Wir barkeepen, kochen & organisieren aus Leidenschaft
An ein tolles Fest erinnert man sich noch lange zurück.
Darum liefert unsere mobile Bar Ihnen als Partyservice nicht nur ein ausgezeichnetes und vielfältiges Cocktailangebot passend zu Ihrem Ansprüchen, sondern wirhelfen Ihnen mit unserem Organisationstalent, unserem Personal und unseren Equipment auch gerne bei der Ausrichtung der gesamten Veranstaltung.
Ob die familiäre Feier bei Ihnen zu Hause oder ein großes Fest in angemieteten Räumlichkeiten, unser erfahrenes Team entwickelt das passende kulinarische Begleitprogramm und die richtigen Ideen, damit Ihre Feier zu einem unvergesslichen Erlebnis wird.
• Langjährige Erfahrung in der Ausrichtung von Events aller Größen
• Eine abwechslungsreiche und hochwertige Küche
• Ein hohes Maß an Kreativität und Engagement
• Faire und transparente Preise
• DJ Booking mit Lichttechnik & Repertoire
Lassen Sie sich unverbindlich beraten und lernen Sie unsere Cocktailservice näher kennen.
Standort: Großraum Darmstadt
Vermietung: Deutschlandweit
Anfrage über Verfügbarkeit und Preise:
Airstreamagency@gmx.de