Airstream Overlander 1964 – Conversion Bison Burger EN
For more photos, please click on the following link of the German website:
Airstream Overlander – Bison Burger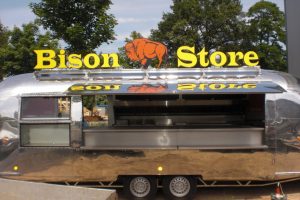 Airstream Overlander 1964 converted into a Bison Burger 
Food Bison Burger- Interior finishings
Ideal mobile solution to serve your food as for example Hamburger, Bison Burger, Veggie Burger, Vegan Cuisine, Fingerfood, French Fries, Crepes, Sausages, Canapés, Cocktails, Champagne, Ice-Cream or Frozen Yoghurt….. everything is possible but this time….our challenge was the following:
Converting an Airstream into a Bison Burger. Nowadays, this Airstream is used for the sales of Bison meat, that is coming directly from a Bison farm. Tasty, delicious Bison Burgers with an exceptional taste. This original idea merits an original high mirror polished eye-catcher.  A brilliant Airstream, whose owner cares for the preparation of its delicious and healthy Bison Burgers with meat from his own farm.The interior fittings have been have been selected by its owner and installed by our professional mechanics.
Have a look by zooming the pictures below.