Airstream Overlander 1960 – Catering Allrounder EN
For photos, please click on the following link of the German website:
Airstream Overlander- Catering Allrounder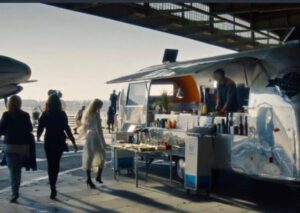 Dieser Airstream Overlander 1960 ist ein echter Allrounder. Er bietet mit seiner Großküchen Ausstattung vielseitige Möglichkeiten, um ihn von der einfachen Küche bis hin zur Haute Cuisine zu nutzen. Für weitere Details, die Ihre konkreten Bedürfnisse betreffen, rufen Sie uns einfach an.
Technische Merkmale und Daten
Modell: Airstream Overlander
Baujahr: 1960
Länge: 8,22 m
Höhe: 2,85 m
Breite: 2,48 m
Zul. Gesamtgewicht: 2.900 kg
Stromanschluss: 400 Volt / 32 A (20 m Kabel ist vorhanden)- auf 63 A aufrüstbar
Zustand aussen:Premium Hochglanz
Innenraum: 12 m² Küchen-Spezialausbau, HACCP konform
Küchen-Einrichtung: 5´er UNOX Kompakt-Heißluftofen (neueste Generation), Brat- und Induktionsflächen, Unterbaukühlungen, Bain Marie
Zu- und Abwasser: 1/2″ Gardena Schlauchkupplung, 50mm HT Rohr