Airfloat Landyacht 1950 EN
For photos, please click on the following link of the German website: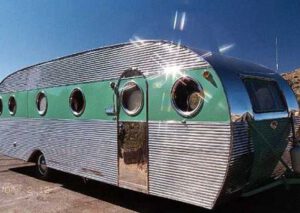 The text below will be translated in the future! 
1950 Airfloat Land Yacht 24′ restauriert mit Badezimmer
Bei diesem außergewöhnlichen Trailer lautet das Motto: "Wirklich eine Inspriration"
Erfahren Sie mehr über seine Geschichte:
Die Airfloat Coach Company wurde im Jahre 1929 von Omar Suttles gegründet und gehörte in Amerika mit zu den ersten Unternehmen, die überhaupt Anhänger produzierten. Aufgrund seiner aerodynamischen Formen und seines Markenzeichens, nämlich der Fenster im Bullaugen-Stil, wurde dieses Unternehmen sehr berühmt.
Die restaurierte und modernisierte Land Yacht aus dem Jahr 1950, die Sie hier abgebildet sehen, ist wohl ein "glänzendes" Bespiel für eines der schönsten Produkte, die diese Firma damals hergestellt hat. Unter Beibehaltung der ursprünglich gewellten Flugzeug-Aluminium- Außenverkleidung, seiner afrikanischen Mahagoni-Schränke, Wand- und Deckenvertäfelung und einem restaurierten Ofen, wurden eine Reihe von Verbesserungen vorgenommen.
Hierzu zählen z. B. eine neue Granitarbeitsplatte, kundenspezifische Lampenhalterungen, neue philippinische Mahagoni-Fußböden, Ledermöbel und ein integrierter Weinkeller. Der Kühlschrank, die Toilette, Heizung, Wasser und Abwasser System sind ebenfalls neu wie auch die Reifen, Räder und Felgen und Babymoon-Radkappen.
Zwei Jahre wurde für die vollständige Modernisierung und Restaurierung benötigt.
Jetzt ist der Trailer betriebsbereit, um noch viele weitere Jahre Luxus und Komfort zu bieten.
Der Preis für dieses glänzende Prachtstück beträgt 67.500 US $ (ca. 46.500 €; Die Summe ist vom Wechselkurs beim Kauf abhängig) zzgl. Überführungskosten, MwSt. und Vermittlungsprovision.
Dieses Fahrzeug befindet zur Zeit noch in den USA und wird von uns im Kundenauftrag vermittelt.