Airstream Ambassador 1968 – Flexible Catering Interior EN
For photos, please click on the following link of the German website: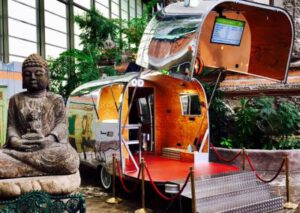 Airstream Overlander 1960 – Flexible Catering Interior
Dieser Airstream Woody ist ein echtes Multitalent und für viele Zwecke einsetzbar. Er bietet mit seiner edlen Innenausstattung in Holzoptik vielseitige Möglichkeiten, um ihn für Ihre Veranstaltungen zu nutzen. Es bieten sich hierbei Möglichkeiten als Kaffee-Mobil, Besprechungenraum, DJ-Pult oder auch Akkreditierungstrailer. Je nach Bedarf können dem Airstream Allrounder Elemente der Inneneinrichtung hinzugefügt oder entnommen werden. Für weitere Details, die Ihre konkreten Bedürfnisse betreffen, rufen Sie uns einfach an.
Abmessungen
Länge: 6,22 m geschlossen, 7,30 m offen
Höhe: 2,85 m geschlossen, 5,50 m offen
Breite: 2,48 m
zul. Gesamtgewicht: 2.000 kg
Energieversorgung
Strom 230 Volt / 16 A Anschluss (20 m Kabel vorhanden)